In April, god gave him the ulimate ride to heaven ,
where we all know that he is by far better there but
we nonetheless still miss him.

[Tire Tracks where someone rode up to pay their respects]
Remembering:
When it came time for this years ride, the excitement and enthusiasm was there, but yet there was something missing, Fellow rider Jeff (Jingles) Hill. Jeff was taken from us all in April of 2000, from an automobile accident.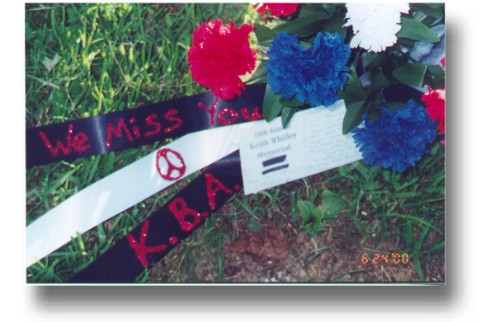 Jeff was from Chillicothe (where I live) and I remember many times passing his smiling face on the highway. One of my favorite memories of Jeff is the time during the very first ride, I rode with him on his motorcycle from one stop to the next. The 2nd year at the KOA campgrounds, he brought fireworks and kept setting them off, just having fun. I hear the campgrounds almost kicked everyone out. The first ride when Jeff learned that Tennessee had a helmet law, Jeff went and bought him a bicycle helmet and wore that. He was just so full of suprises. Words cant describe the loss that we all have suffered. I went to Sandy Hook to see the motorcycles off for the ride this year, and on the way back, we stopped by Wal-Mart and got some ribbon and flowers, and made him an arrangement (shown in the pictures). We later went to the cemetary and placed it on his grave. He was a big part of the Keith and Randy Whitley Ride, and to all his friends. We hope this page does him justice in remembering the great man we all knew as JINGLES.
Fly on...Freebird.
Your friend, Troy Elder.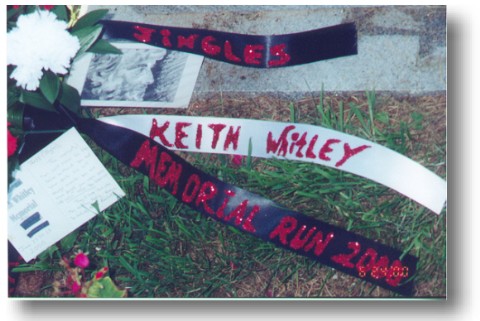 Would you like to add your comments about Jingles or add an image? Sumbit here