| | |
| --- | --- |
| | 2000, the first Keith Whitley memorial exhibit of the 21st century and what an event it was! There was good food, great folks, lots of music and of course all of the good ole Keith Whitley fans. There was a few "new" items to the exhibit this year, like the passports Keith purcahsed so he could travel overseas with J.D Crowe and the first guitar pick he owned as well as many, many more rare photos and personal belongings. We, here at keithwhitleyblvd.com are happy to provide the fans that weren't so lucky as to attend with images from a few highlights of the weekend. |
Last years event
Well, The Keith Whitley Exhibit might have started out a little slow this year, but when the crowd picked up, it stayed up. Although it wasnt as packed as previous years and not advertised as in the past, it was still a success, and will definitely continue. We will be moving the exhibit to the NEW WELCOME CENTER/ MUSEUM probably in 2002. The New facility will be on the beautiful Laurel Gorge, just a minute or two from Faye Whitleys house, and will have walking trails through the scenic area, which will also be wheelchair accessible. There will be a picture of the planned facility on www.keithwhitleyblvd.com in a few days. I must say that KEITH was definitely there that day, I just KNOW he was. The story that I am about to tell you is very emotional for me, so I hope that I write this so everyone can understand, but believe me, unless you was there, you could never understand. I brought an advance copy of Keith Whitley new cd SAD SONGS & WALTZES (due out September 12th) to the exhibit for everyone to hear. As me and Dwight Whitley was talking about how good these recordings are, we were listening to Keiths version of "Does Ft. Worth cross your mind". Dwight started talking about another song off the cd called "Girl from the canyon". I have to let you know, this was playing on my stereo that was upstairs in the attic, I was the only one that had access to the stereo. We had the speakers outside, which is where we were at the time of the incident. The song that was playing wasnt even half way through, and as soon as Dwight said "Girl from the canyon", The song STOPPED and went right to that song. We both stopped, and got chills as the song started. We both agreed that Keith was looking over us that day. It seems every year, something happens which is unexplainable. To assure me Keith was there, the rest of this story should sum it up for everyone. We were just putting the wraps on the exhibit this year, when my good friends Tina and Bill Arnold's son, Andrew's (7 years old) ball that he was playing with, went into the road. Now, I dont know if you have been to the exhibit before, but anyone that has, knows that cars "fly" through that area all the time. Well, Andrew went to get his ball, not realizing the danger. We heard a deafening skreetch of tires, and as we all looked to see what was happening, we saw Andrew get hit by this car. He was thrown approximately 43 feet. It was the worst thing I have ever seen in my life. We all went running in horror, expecting the worst. He looked like a rag doll being thrown around. I called 911, and must commend the VERY QUICK response from the Elliott County ambulance. Andrew was scratched up quite a bit, but did not suffer ANY broken bones and no internal injuries. We went over to the hospital in Morehead, Kentucky to wait on tests, and he was released a few hours later. I am telling you now, how Andrew survived this accident is NOTHING LESS than a miracle. I still replay the accident over and over in my head, it is a constant reminder to me how quick something that you love can be taken away from you. I also keep htinking about the incident earlier that day when the song was changed with no explanation, other than Keith playing another one of his jokes. Maybe to believe this , you might have had to witness this yourself, but I know what I heard and later saw, and IF it wasnt Keith that was looking over us that day, then it was definitely another higher power that was. Andrew is doing Great now, and I am so thankful to that. This was definitley a Keith Whitley Exhibit that no one will ever forget, I am just glad that things turned out the way they did, and we were ALL able to make it home safely. KEITH, as for you..........We owe you one!
--Troy Elder
| | |
| --- | --- |
| | Fans looking through some personal photo albums of the familys |

Dwight Whitley (Keith's brother) playing guitar with a friend of his,
while two fans watch with smiles on their faces


Sign out front that proclaims this property KEITH WHITLEY COUNTRY
| | |
| --- | --- |
| One of Dwight's boys. | Some more fans in the main lobby |
| | |
| --- | --- |
| A very rare poster that was shipped with Keith's first single to radio stations | |
Last Year's event:
Troy's Account: has attended every exhibit.
Every Labor day weekend, in conjunction to The Elliot County Tobacco Festival, we have The KEITH WHITLEY Memorial Exhibit. It all started by Keiths family putting together some of Keiths memorabilia during Labor Day weekend of 1989, for all the hometown people of Sandy Hook to remember Keith by. That december, I was told by Dwight exactly what they did, and how the fans enjoyed it. I soon wondered, what the fans all around The U.S. would think of seeing that. So I contacted COUNTRY AMERICA magazine, they printed the event, and the fans have loved it and joined together every year since then. Its like one big Family Reunion, in honor of our Hero, Keith Whitley. We are proud to say that this years exhibit is celebrating the 10th ANNUAL exhibit. We hope that you spend Labor Day weekend 2000, with us in Sandy Hook, Kentucky. Thanks, Troy Elder

View some of Troy's Images for last year:
Click on a thumbnail for a larger view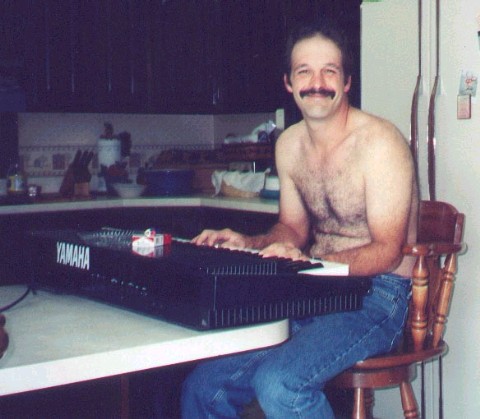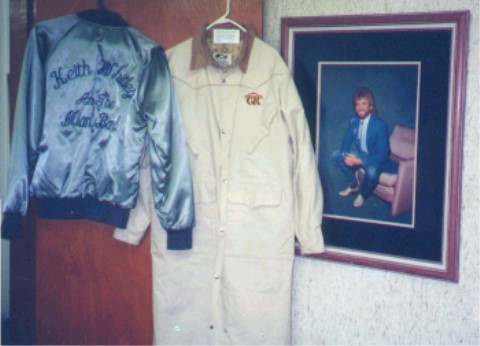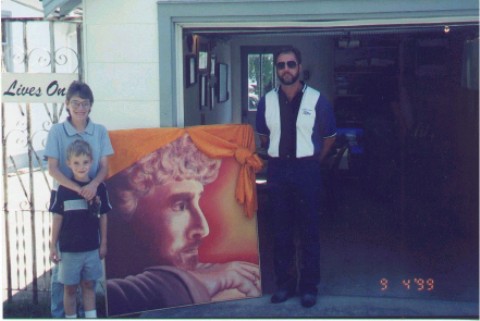 Eve's account: has attended the last two exhibits.
To tell you the truth I don't even remember how I found out about the exhibit but I'm sure glad I did. I attended the 98 exhibit held at Mrs Fayes house (Keith's mother.) It was a great experience for me , I made lots of wonderful friends that I still have contact with and look forward to seeing every year. The bonds that were made are unbelievable, nothing brings people together like good music and the admiration of someone.
View some of Eve's Images for 1999 year's exhibit.
Click for Larger View

>>More
Remember do not remove any images or content from this page. It is strictly
copyrigthed and is property of Troy Elder, Eve Morris and the Whitley family. Don't steal, it's bad!